A Guide to improving your Google My Business listing.
Increase Your Store Traffic
Tips, tricks and tactics to stand out in local search.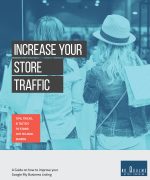 Just tell us where you would like us to send it.
We promise to keep your email safe.
Learn how to get more traffic to your store using Google My Business. We'll show you pro tips and tricks to rise to the top in local search and get more customers coming to your store.
Here's what you'll discover inside:
Show up at the top in local search, we'll reveal how!

Help Google promote your business using this simple technique.

Why the experts modify their photos and how you can too!

Want more 5 star reviews? Try this simple trick.